Дэвид Новик, профессор Техасского университета в Эль-Пасо, создал оптическую иллюзию с желейными мишками.
«Ещё одна четырёхцветная иллюзия — с желейными мишками, которые кажутся такого же цвета, как апельсин, малина, виноград и ананас. На самом деле у всех одинаковый розовый цвет. Если вы уменьшите изображение, эффект возрастёт».

Another four-color confetti illusion with gummi bears that appear to be orange, raspberry, grape, and pineapple flavors. In fact, all have exactly the same pink base color (RGB 255,173,255). Shrink the image to increase the effect. Original png file is at https://t.co/6r2PMbLMJc. pic.twitter.com/oNy9RVCKlR

— David Novick (@NovickProf) July 12, 2019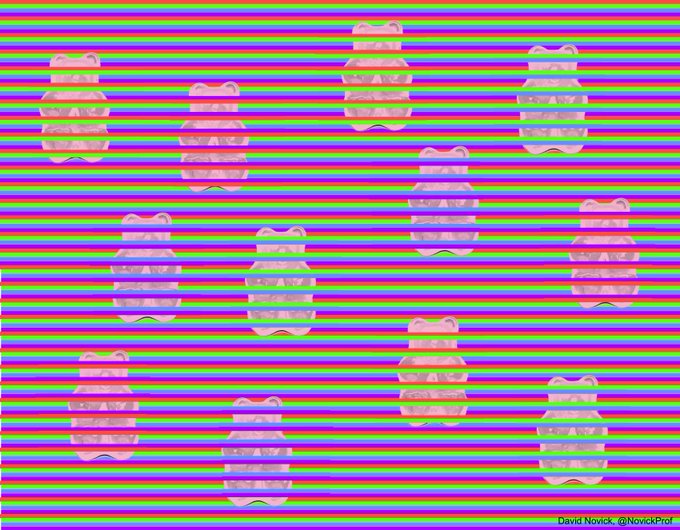 Это изображение состоит из шариков одного и цвета и разноцветных линий. Восприятие цвета зависит от расположения шарика и линий, которые могут быть на переднем или заднем плане — это так называемый цветовой контекст. Поэтому при беглом взгляде одинаковые шарики кажутся разными, так как они находятся в разном контексте.

Коллекция оптических иллюзий Дэвида Новика.